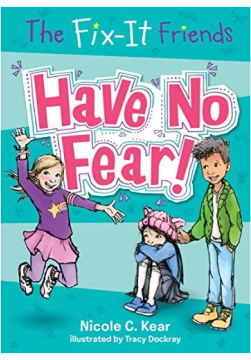 Publisher:‎ Imprint (May 16, 2017)
Language: English
Paperback: 144 pages
ISBN-10: 1250085845
ISBN-13: 978-1250085849
Reading Age: 6 - 9 years, from customers
Lexile Measure: HL690L
Grade Level: 2 - 3
Item Weight: 5.6 ounces
Dimensions: 5.55 x 0.6 x 7.6 inches
Best Sellers Rank: #1,048,685 in Books #14,782 in Children's Friendship Books
The Fix-It Friends: Have No Fear!
Because being scared stinks!Seven-year-old Veronica Conti knows a thing or two. She knows that recess is the best part of the day. And if someone, like Maya, doesn't play at recess because she's too afraid of bugs, well, that's a HUGE problem! And it has to be fixed, pronto!But when Veronica's big ideas to help Maya backfire, she learns that sometimes, to help others, you need a little help yourself.Before you can say "bugging out," Veronica forms a team supreme with her best friend Cora, total tech whiz Ezra, and Mr. Know-It-All, her bossy big brother, Jude. Together, they can tackle Maya's problem, and every problem! Together, they are the Fix-It Friends!This is the first adventure in The Fix-It Friends chapter book series. Author Nicole C. Kear anchors humor with lots of heart, as the group learns to deal with fears and worries.
About the Author
Nicole C. Kear grew up in New York City, where she still lives, with her husband, three firecracker kids and a ridiculously fluffy hamster. She's written lots of essays and a memoir, Now I See You, for grownups; and The Fix-It Friends series and Foreverland for kids. She also co-wrote The Startup Squad series with Brian Weisfeld. She has a bunch of fancy, boring diplomas, and one red clown nose from circus school. Seriously.